Season 2020 Winter Partner Club Program – WPFC Junior Development Squad Players (U8-U11)
West Pymble F.C. and COERVER® Sydney North Shore are excited to be continuing their Partner Club arrangement for the clubs Junior Development Squad players for Season 2020. Providing the globally renowned COERVER® Method in a once-a-week training model designed to supplement the players 1x team training session with a 'player-first' technical skill focused COERVER® session each week.
Designed to exponentially improve each players' technical skill level, creativity, and confidence. Our approach being that if we can make the player technically more proficient – they will ultimately be more effective in their teams. Maximise their potential. And enjoy the game more!
The COERVER® Winter Partner Club Program sessions for the North Shore Region for Junior U8-U11 players will be held on Monday afternoon/evenings in the West Pymble area (or surrounding area).
This page to register is ONLY for WPFC Junior Development Squad Players (U8-U11 Mixed & G10 Sapphires) as it has been discounted by $100 in line with our partnership with the club (Total Cost for WPFC players is $495 for the season). A separate link will be provided to any non-WPFC / Club Program Partner players invited into the program at the full price of $595 per player.
Program Inclusions:
20-Hours of Professional COERVER® Coaching utilising the COERVER® Pyramid of Player Development and COERVER® Code.

COERVER® Sydney North Shore adidas® Training Kit (Shirt, Shorts, Socks).

Opportunity to win a COERVER® Sydney North Shore $500 Scholarship

at the conclusion of the program.

Opportunity to be selected for the 2020/21 Summer COERVER® Sydney North Shore Performance Academy –

the highest level of COERVER® training globally and our prerequisite program to the

SL Benfica / COERVER® Coaching International Elite Development Program.
Ages: Boys and Girls U8-U11
Location: West Pymble Public School (Pre-Season) & Norman Griffiths Oval (In-Season)
Schedule: March 2nd to August (Completion date TBC pending final delivery based on holidays and wet weather)
Day / Times: Monday afternoon / evenings during NSW Govt School Term. U8-U9 (plus G10 Sapphires) @ 4pm. U10-U11 @ 5:30pm (PLEASE NOTE: Final session times TBC).
WPFC Subsidised Rate: $495* including full adidas® COERVER® Sydney North Shore Training Kit. Players who already own the COERVER® Winter Club Program adidas kit (sky blue shirt, black shorts, white socks) and would prefer to not purchase a new one should enter NOKIT in the Coupon Code to deduct a further $50 from the price. Noting all players must wear the adidas® COERVER® training kit to every training session. *Sibling Discount not available on this program due to program already being discounted by $100. Winter COERVER® jackets will also be available for purchase on-location.
PLEASE NOTE: Players are expected to have their own ball for this program. If a ball is required, COERVER® Sydney North Shore are happy to provide adidas® training balls at RRP upon request. 
PARENTS / CARERS: Our primary source of communication for this program will be via email. So please ensure you are regularly checking your email (including 'Junk Mail') for all program updates and wet weather advice. If you would like to add multiple email addresses to our mailing list for this program, please add these into the comments section.
COERVER® Sydney North Shore Mission;
To deliver the very highest-level technical skills football training program for Junior and Youth players in the region by utilising the world renowned COERVER® Method.

To maximise the enjoyment and love of the game for every single player we train.

To improve young players – both as footballers and as people. Using the hidden learnings and neuroscience inside the COERVER® Method to improve and develop each individual's health, academic performance and general life skills.

To develop technically skilful, confident, creative and competitive players who love the game, respect themselves, respect others, and display excellent sportsmanship.
To stay up-to-date on all things COERVER® Sydney North Shore – follow us on facebook and instagram. Or for more information/questions please contact us directly at sydneyns@coerver.com.au.   
Brief Program History & Overview
The COERVER® Sydney North Shore Winter Club Program (formerly known as the Development Academy) was established in early 2018 to assist players looking to continue their technical (and intellectual) football development once-a-week during the main football season under the COERVER® Method. Running in addition to the players club/team commitments where we identified the common approach to coaching wasn't to focus on the player, but rather the team. Our approach being that if we can make the player technically more proficient, they will ultimately be more effective in their teams. Maximise their potential. And enjoy the game more!
Given COERVER® Coaching has worked with some of the world's biggest clubs, associations, coaches, and players over its 35 years of technical skills training and expertise, we believed at the time of inception that the reintroduction of the program to Sydney could make a significant, positive, and lasting impact on our 'Next Gen' of players coming through. By once again, providing "COERVER" to our young players – a globally recognised and proven technical skill development method. Almost three years on, and we are pleased to say, the development and results we have witnessed – at both a player and team level – have been nothing short of remarkable! With many players and associated teams exponentially improving their technical development and successes on the field through the program's curriculum. Along with many players advancing to higher level teams through the process.
Our Approach
Using the COERVER® Pyramid of Player Development and COERVER® Code our COERVER® Sydney North Shore Club Programs provide market-leading, professionally run training programs with a heavy technical football focus. Designed to maximise each players development across all areas of the game. But especially at a technical skill level. Building creative, confident, intelligent and technically proficient players. The Program also focuses on the 'person' – with hidden learnings inside the COERVER® Method that also teach life skills such as good sportsmanship, good attitude, respect, teamwork, commitment and a 'never give up' approach that build essential character traits these players will carry through the rest of their lives.
Who is it for?
Essentially, the Club Programs are designed to support our associate clubs and their players. With players from outside our club partnerships wishing to join the program also welcome – but must first be assessed independently before receiving their invite into the program. Being a selection-based program, the purpose is to stretch and push the players forward as a collective group. As such, it is important that each player is of a similar mindset and ability in order to maximise each players development throughout the program.
What, When and Where is it?
The COERVER® Sydney North Shore Club Programs currently run in two separate locations of Sydney – the Upper North Shore and Ryde areas. And deliver a minimum of 20-hours of COERVER® training to the players in each location across the course of the winter season (Mar-Aug). Designed to provide extensive support to assist each player achieve their developmental goals come season end. All regular weekly evening sessions will be approx. 75-90 minutes in duration – with the possibility of delivering longer 'Super Sessions' if / when required. 
Quick Information
4pm (U8-U9) & 5:30pm (U10-U11) TBC
Course Gallery
,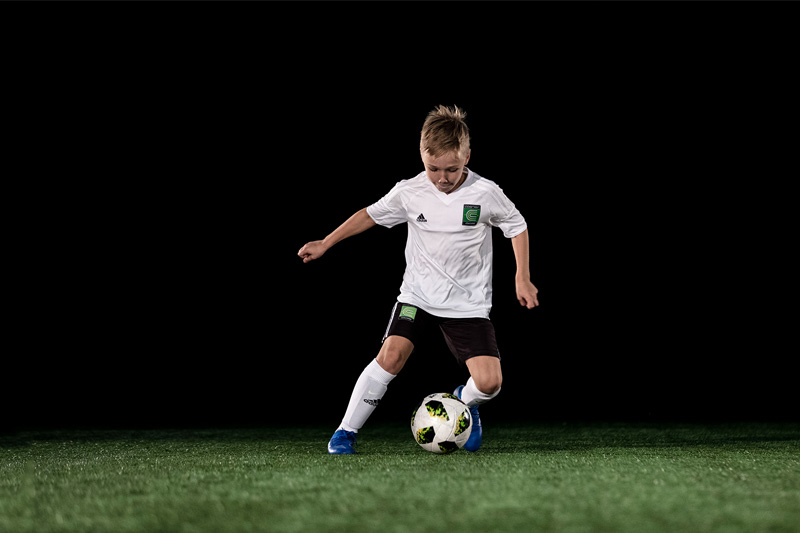 ,