Coerver® Asia Pacific Technical Instructor and Coaches Educator, Adrian Haynes discusses his 14 year Coerver Coaching experience: Part 2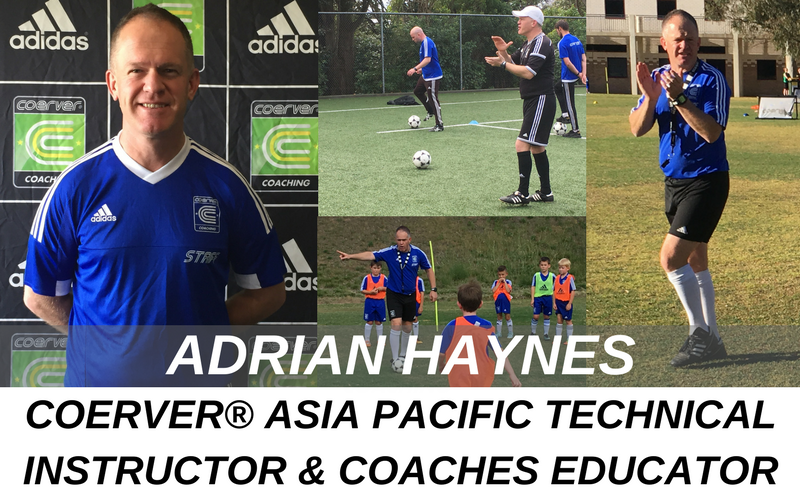 Coerver® Coaching Asia Pacific sat down with Coerver Asia Pacific Technical Instructor and Coaches Educator, Adrian Haynes to discuss Coerver Coaching and his experiences over the last 14 years. 
As a leading Coerver Instructor and Coaches Educator, Adrian has conducted Coerver programs in Australia, Singapore, Japan, New Zealand, UK, China, Spain and France, making him one of the most experienced in the Asia Pacific region. Adrian is the Coerver Coaching ACT Performance Academy Director, and has worked with players and coaches from the grassroots level, and all the way through to top professional clubs. He also features in the Coerver Improve Your Game and Session Planner DVD series.
Here is part two of our two part interview series with Adrian!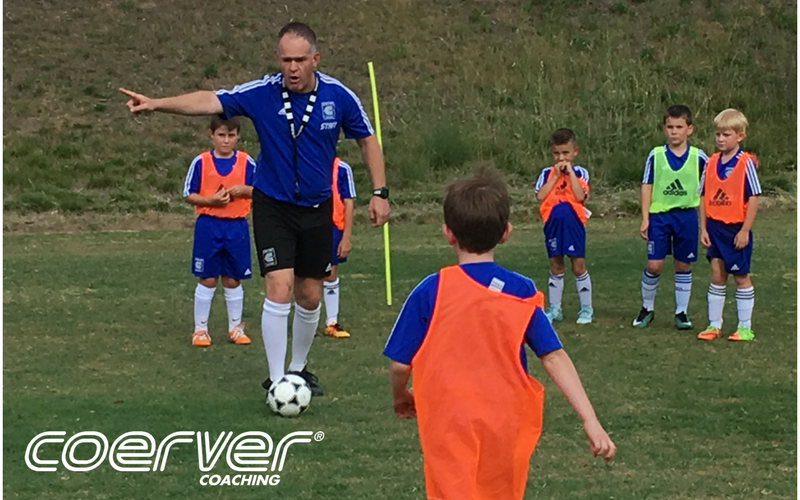 CC. Coerver instructors are very well trained in technical skill development why is this and is there a lot of time spent in becoming an instructor?
AH. Coerver Coaching is very specific skill set within itself. We have had many experienced coaches attend our programs or coach education courses and be surprised at the detail in which Coerver Coaching goes to in terms of technical instruction and breaking down each individual skill. It is not easy to identify the individual steps involved in mastering a specific skill. Then to be able to identify ares for improvement in developing technique and offer advice on how to correct this takes years to master. Coerver Coaches spent many hundreds of hours away from the players and the coaching session, mastering their own abilities in the art of coaching. We hold our coaches to the very highest standards and only a select few develop the ability to correctly deliver our world recognized program.
CC. You spent a great deal of time personally mastering the Coerver Ball Mastery Techniques and Moves, why is it so important for Coerver Coaches to have good demonstration skills?
AH. When I first started with Coerver Coaching nearly 15 years ago I was already an "experienced coach" or so I thought! When first exposed to the Coerver Curriculum, I was instantly motivated and inspired by what I saw in Coerver Coaching. At that stage I was still playing competitive football and was extremely motivated to be able to demonstrate all of the Ball Mastery and 1v1 moves sets that I was being exposed to. Initially I liked the challenge, but then I quickly realized the importance of being able to demonstrate all of the moves, both broken down step by step and at full pace so the players know what they are working towards. Even today I still consistently practice my skills to ensure I am able to demonstrate correctly. It also inspires the players and I often challenge them to beat me which lifts the intensity and enjoyment of the sessions for all. 
CC. Many programs [competitors] suggest they can offer pathways to pro clubs, what is it Coerver Coaching does differently in educating the player and parents on this and the advice you provide?
AH. This is an area where people need to be very careful. Making these promises is fraught with danger. There are many things that go into a player being able to play the game professionally. There have been many players who have gone on from Coerver Coaching programs to play the game professionally at A League and W league level and also players who have gone on to represent the Socceroos and the Matildas. But at no stage did we make promises to any of these players as it is simply not our philosophy. Our aim is to prepare players to be the very best they can be whether that is to play with their school team, club team, represent their state or go on to play the game at the highest level. But at no time should a pathway to a pro club be an incentive to join a coaching program. These pathways are always open to pro clubs and you do not need a coaching program to open these avenues for you if you think you have what it takes. It should be the quality of coaching that entices a player to join a coaching program, not empty promises that in 99.9% of cases turn out to be exactly that and unfortunately players are the ones who suffer from this.  
CC. Many programs [competitors] are available for players and parents to choose from, all claiming to be the best. What advice would you provide to players and parents when considering a program?
AH. The most important thing is to think about what you want to get out of the program. What are the aims of the player and is the program versatile enough to cater for playing abilities of all types? First and foremost it should be fun. That's is the beauty of Coerver Coaching. Above and beyond being the best way to learn to become a skillful and technically astute player, it really is great fun. Not all players will go on to play at the professional level, but everyone wants to have fun. You should also look into the history of the program. How long have they been around for? What endorsements and recommendations do they have? Very importantly do they pay for those endorsements? A lot of programs come and go and often many arrive in a "Dash and Grab" manner where it is about them making quick return and moving on. Has the program been in your area for a period of time and demonstrated a real commitment to the players and the families? Do they offer online support and advice? Do they have a presence outside your area? Is the program based on the belief and experience of one person or a global network of experience and proven methodology over a long period of time? Coerver Coaching ticks all of these and many other boxes in terms of being the best program for players of all abilities. Our business is not based on selling a false hope or a nice shirt it is about providing learning outcomes for our players.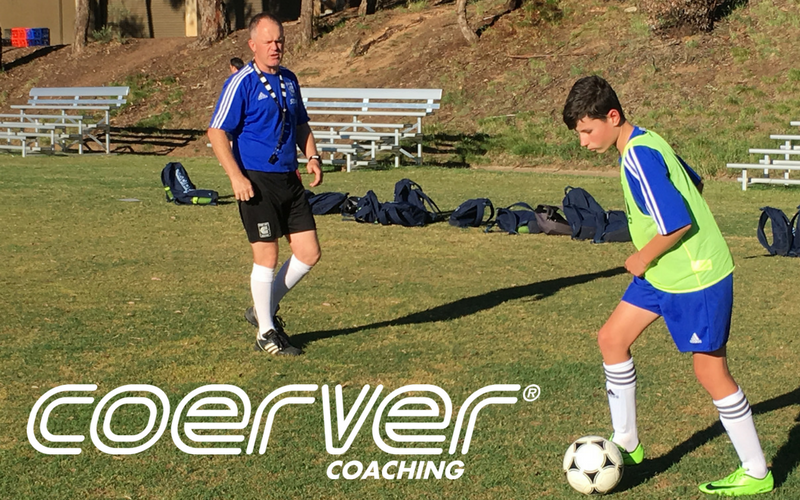 CC. The positioning statement of the "World's Number One Soccer Skills Teaching method" is very defining, how did this come about and what does it mean to Coerver Coaching?
AH. It is interesting how many footballing programs self-label as "Number one" or "Best program." The greatest thing about the statement  "World's Number One Soccer Skills Teaching method"  that Coerver Coaching rightfully has, is that it was not a self-proclamation. This statement was made by English legend Sir Stanley Matthews and more recently by Gerard Houllier simply based on facts. Coerver Coaching revolutionized the way that football skill is taught. It means the world to us that we are recognized by clubs and Federations around the world as the best football skills teaching method. But this is a label that has been earnt over 34 years of hard work, research and an ongoing commitment to developing our program. We may be number one but we always strive to improve and develop and stay at the very forefront of technical football instruction.
CC. You have been a leading Coerver instructor for many years, where do you see the program heading in the next 5-10 years?
AH. The game is always developing. The influx of girls coming to football is something we are very proud of as Coerver Coaching has been a leader in providing girls only football programs as well as integrating girls into all of our programs for many many years. Once again before it was the "popular" thing to do. The number of girls coming to the game is going to keep increasing and we will stay at the forefront of providing opportunities for these players. We also have an excellent number of outstanding female instructors who coach across all of our programs. The need for technical skill in football is not going to change, it is the critical element in any team's success. I see Coerver Coaching continuing in the same vein of providing this crucial training that all players require. We always monitor the game looking for trends and often identifying them before they become clearly apparent. This has been evident in the development of programs like "First Skills" for 3-6 year olds and "1 on 1" training for individual players. As team defenses become more compact and having greater emphasis put into defense I see coaches across the world recognizing the need for that "Special Player." The game breaker who can cut open a packed defense with pure skill and speed and people will recognize the need to develop more of this type of player. Special skill can be taught and as more and more people recognize the importance of this type of player, we will be here to provide the training needed to produce these special players. 
In case you missed it, click here to read Part 1 of the interview.