Coerver® Coaching ACT caught up with former Coerver® ACT Kid James Fletcher to get an insight into his experience growing up with Coerver® Coaching.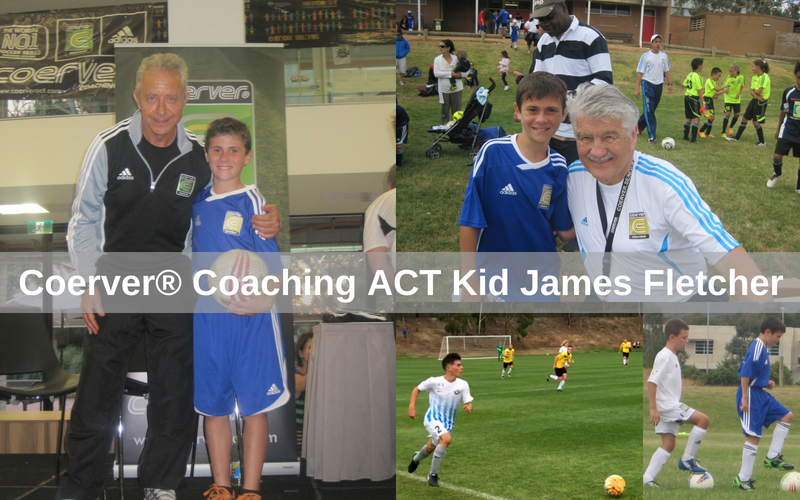 Coerver® Coaching ACT caught up with former Coerver® ACT Kid James Fletcher to get an insight into his experience growing up with Coerver® Coaching.
Player Profile
Name: James Fletcher
Achievements: 2016-17 FFA Centre of Excellence Scholarship holder, U-17 National team (Joeys) representative
Program: Coerver® Coaching ACT 
CC. Can you recall your first Coerver® Coaching experience?
My first Coerver® experience actually came after I didn't make the squad for Capital Football. I was 11-12 at the time and looking for a program that offered a quality level of training so I could improve myself technically. I was initially quite nervous, being new in Canberra I didn't know anyone, but the environment was very relaxed and welcoming. This, coupled with a high level of coaching helped to massively improve my game over a really short space of time. I remember only being able to juggle 20-30 during my first session and at the end of my time there I was easily juggling 250.
CC. How did the Coerver® program improve your game and what is it that makes the Coerver® program so unique?
Coerver® Coaching without a doubt improved me massively in a variety of technical departments. I improved my striking of the ball, first touch and 1v1. By the continuous practise and use of the Home Training Diary, which included dietary requirements and practicing the skills we learnt the day before.
CC. What is it about Coerver® Coaching you enjoyed most?
When I first joined Coerver®, I had quite low confidence in my abilities and wasn't thinking about football seriously as a profession. By the time I left, I'd won player of the year (for my age group) and had confidence I'd never had before. Being able to test myself and the satisfaction I felt beating my juggling record, or beating someone with a new 1v1 move everyday was definitely the highlight.
CC. What are some of your best memories from your time at Coerver® Coaching? 
Winning the player of the year award was definitely one of my biggest highlights from my time at Coerver®. It was one of the first times I felt like I had a future in the game and it's propelled me massively to the point I'm at today. But every memory from my time at Coerver® is positive and I'll always be grateful to Coerver® for everything they taught me.
CC. What advice would you give to our young Coerver® players in our programs?
I know it sounds clichè, but don't ever let anyone tell you you're not good enough, or that your dreams are too big. It's important that you always stay true to yourself, work hard and never stop believing.
CC. How has Coerver® Coaching prepared you for your current football pursuits?
Coerver® Coaching gave me the technical foundations as well as the confidence in my abilities, I didn't have before. Using these as a stepping stones, I have been able to one by one tick off my "little goals" to get the point I am at today.  
CC. What has been your 'career' highlight to date?
It's a tough one. Debuting for Australia at the AFF Championships in 2016 was definitely a dream come true. Putting on that kit and listening to the national anthem, is such an unreal experience it's hard to describe the pride I felt and how hungry it made me for more. A close second would be training with the A-League team Perth Glory for 3 weeks recently. Testing myself at that level and seeing if I could cope physically and technically has inspired me to want to get to an even higher level in football.
We're incredibly proud of James's achievements and are looking forward to following his football journey.